Baby Pink Furry iPhone Cover Is Ever-So Plush!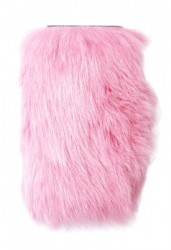 We just found the perfect baby pink iPhone accessory from Jagger's Edge. How fabulous is this cover? If you're like us…then finding your iPhone in your handbag can become quite a task. With this "girlie" cover all you have to do is reach in your bag and feel around for this stylish furry case. It's not just about having a great bag…today, it's also about the accessories that you carry! "To reshape the way people look at their tech toys was a complete new concept in fashion, and Jagger Edge tech accessories have launched into and created an entire new category for the fashion world". We'd say this cover is fashionably chic! Now your phone can be "pretty in pink".
The pastel color and the fur is soft and glamorous. Although we think the pink is the perfect color, the cover is available in black. Just think how fabulous this baby pink fur cover will look on your phone and in your hand. We'd pair matching baby pink polish for the ultimate look. Click the link to indulge this luscious Jagger Edge V.I.P phone cover. It's already a favorite among many celebrities. FYI…it's on sale! It's fun to have a cool phone cover since we are all on our phones most of the day!
From our friends at A Few Goody Gumdrops