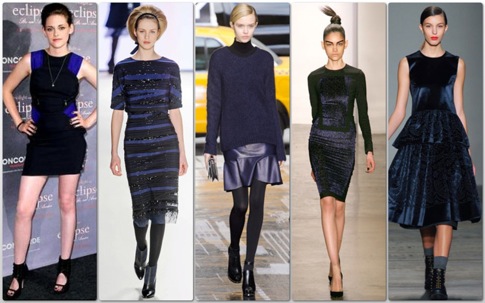 Shopping and Goodies is featuring the latest trends and designers, including Nicholas Kirkwood, The Row, Louis Vuitton, ADJ and the ever-so stylish black and blue combo! We're loving this color combination. We have a fabulous LV Speedy Bag GIVEAWAY. Be sure to enter this amazing chance to win this iconic bag. See who inspired Banana Republic's latest collection! We always have our celeb scoop. Guess who doesn't want to be labeled a style icon? Shopping and Goodies is always up on the ever changing styles and gossip every week! I'd start reading what my favorite fashionistas have to say.
A Few Goody Gumdrops is right in style with The Row's leather leggings in saddle and Ann Dexter Jones ID bracelet in Rosegold.
Be Voguish is enamored with Nicholas Kirkwood's shoes, designed for the Victoria Secret Fashion Show.
Couture In The City shares how to combine sexy black with divine blue! A fabulous color combination.
Girls Talkin Smack scoops about five celebrities who do not want to be labeled as style icons!
Simply Sample Sales is Giving Away a Brand New 2012 (Fall/ Winter Runway) "Golden Arrow Speedy" Handbag!!
TheFind is intrigued Banana Republic's Anna Karenina Collectionchannels 19th-century glamour in the form of faux fur, lace embellishments, and a modest dash of sparkle!